It's a ritual for business folk to take stock at the end of the year and consider changes that might make business in the new year even better.
If that's on your agenda too, the conversation I had with Dario Presutto, the man who's cut my hair for more than 33 years, might be of interest. Dario Salon is on West 55th Street in New York and he is absolutely amazing. If you're ever in the city – Dario really IS the man to see!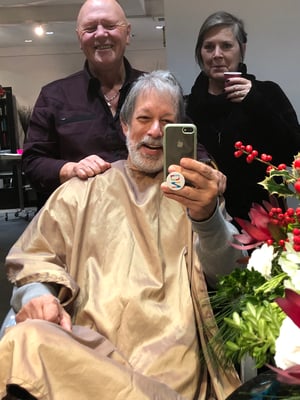 I starting going to Dario in 1986 when I was working in New York. Even after I moved to Washington, D.C. in the late 1990's, I would make a point of coming back to the city for haircuts. And before we married, Joanna would hold off on her haircuts until she flew over from London to see me in New York. In this photo of Dario and me last week, Joanna is supervising and sipping the ever-present espresso that flows freely.
Suffice it to say Dario's really good. He could easily work at one of the trendy and uber-expensive NYC salons and did for several years – but he left that scene in the 1980's because he didn't like the kind of customers it attracted. In his heart, Dario's a small-town guy from Salerno, Italy and that's why I like him so much.
At my appointment this month, I was talking with Dario about his craft. He explained with a heavy Italian accent that a customer wanted to know why he uses so little shampoo. She thought he was being "cheap." Dario said he uses an amount that's just about the size of a U.S. quarter. "People think more shampoo means cleaner hair," he said, "but no. Great looking hair needs to be clean hair. I'm not being cheap with the amount of shampoo. What people don't know is that I spent thousands of dollars on the water I use to rinse the hair." The water is filtered and pH-adjusted. It costs a lot but "the water is what gets hair clean and beautiful – not the shampoo," Dario said.
That got me thinking: Sometimes we think business success is a result of one action but of we look close, we find out that it's really something else that is responsible.
This month, and early the next year, as we all think about what we need to do to improve business – we need to be careful that we are focusing on the right things…the things that really drive our business success…and not the ones we just think drive success. Once we figure that out – we can do more of what counts and less of the other stuff. Goodness knows, there's only so much time in a day.
Hope everyone is getting in the holiday spirit.